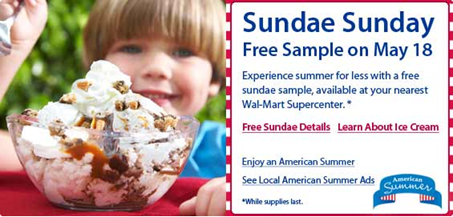 Wal-Mart is promising low prices on ice cream and sundae toppings during the summer.
To celebrate these savings and kick off the American Summer, Wal-Mart will host what may be the world's largest ice cream social event on Sunday, May 18, complete with complimentary ice cream sundaes in more than 2,500 Wal-Mart Supercenters across the country. Wal-Mart will have on hand more than 5,000 ice cream scoopers to build an estimated 1 million free ice cream sundaes, complete with whipped cream and other toppings, from 11:00 a.m. to 4:00 p.m., while supplies last.
Now, 1 Million Free ice-cream sundaes is a lot of money (My guess would be USD 1 Million), but the amount of traffic the event will bring to it's 2500 supercenters will certainly result in much more dollars for the Retailer.
More here:
http://news.moneycentral.msn.com/ticker/article.aspx?Feed=PR&Date=20080515&ID=8650858&Symbol=US:WMT